Last week, we talked about one of the most persistent wall-art arranging trends we've seen in the last few years: the gallery wall. But this week, we're going to focus on an emerging technique we're seeing more and more. It's similar to the gallery wall in that multiple pictures are displayed, but the approach is fresh: we're talking about hanging art on a picture rail.
Besides the beauty of this style of art arrangement, we also love the flexibility of using picture rails. For one, they allow you the luxury of moving pictures until you find an arrangement you like. They can also be used in almost any space, from a small corner nook, to the entire expanse of a wall. Lastly, there are a ton of options for creating a picture rail, from professional-grade options, to fairly simple DIY projects, or even the use of existing wall molding.
Here are a few of our favorite examples of picture rails in all sorts of styles.
How beautiful is this eclectic arrangement hung from antique molding?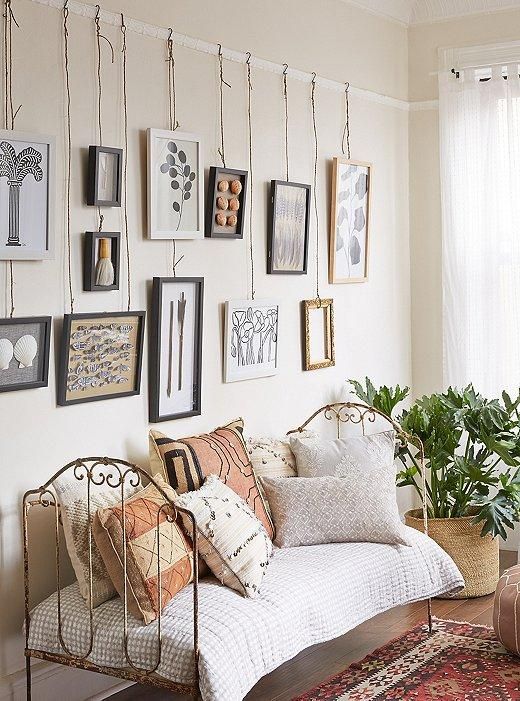 Here, molding was installed specifically for use as a picture rail.
For a more modern approach, this simple brass rod and matching chains is hard to beat (especially against the dark gray wall).
For an old-world, rustic look, try a picture rail with elaborate decorative finials.
Lastly, a rail hung around the perimeter of the ceiling provides a discreet, flexible way to arrange art throughout a room.
Once you choose the style of your rail, it's time to hang the pictures. There are number of options for prepping your photos, but here's a quick and helpful illustration of three of the most common:
We recommend using one of the first two methods to keep the art hanging flush to to the wall. The third method can cause art to hang unevenly, especially with larger pieces.
For either method, you'll need eye hooks, and the chain, rope, ribbon, or whatever other material you'll use to hang the pictures, along with a set of picture rail hooks. There are separate picture rail hooks made for hanging art on molding, so if you're going that route, be sure to choose the correct hardware.
Once your artwork is prepped, simply hang it along the rail, and adjust as necessary. It's that simple!